Ledger Nano S vs Ledger Nano X
Unlike its bigger brother (Ledger Nano X), Nano S does not come with wireless Bluetooth connectivity and needs to be connected to your device of choice by a USB cable, both for data transfer and power. Nano X comes with a built in battery, so it can be used entirely wirelessly and turned on at any time. Nano S also comes with a smaller screen and two small buttons on the side of the wallet, vs two big buttons of Nano X on the face of the wallet. The considerably smaller amount of memory means that you can only use so many apps/coins at the same time (up to 6, depending on the app size). In order to access your other coins, you need to connect your device to a PC and uninstall/install the required wallets through the supplied Ledger Live program. No data is lost while migrating between coins and it can be done fairly quickly, so it is hardly a big deal, but it is something one should know before deciding which wallet to go for. Majority of our team initially went with the S and couldn't be happier. As our crypto portfolios grew, some of us eventually migrated over to Nano X, but more out of comfort than necessity. There are still those of us who swear by Nano S and see no need to migrate to Ledger's latest offering, when the smaller Ledger S keeps our crypto perfectly secure as well.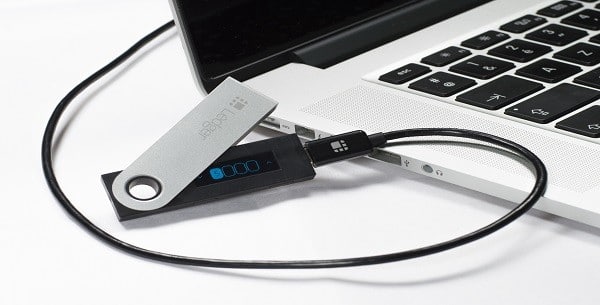 Ledger Nano S vs Ledger Nano X Key Differences
Ledger Nano X
Ledger Nano S
Wireless
Yes (Bluetooth, encrypted)
No (USB cable)
Battery powered
Yes
No (USB cable)
Buttons
2 big, front
2 small, side
Memory
Up to 100 apps
Up to 6 apps at one time,
can be added/removed as required
Security
Industry leading
Industry leading
You may also check the official Ledger wallet comparison page here.