Trezor hardware wallets are a good alternative for the more known Ledger wallets. It mainly comes down to the form factor, options, ease of use and supported 3rd party wallet compatibility. Essentially, both Trezor and Ledger serve their main purpose of keeping your crypto safe and it is up to you to decide which one suits your requirements better. While most of us went with the Ledger, some of us own both and there are also those who wont part with their Trezor.
Buy Trezor products (official website)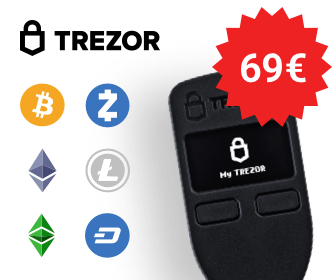 The following table provides a list of the most competitive crypto hardware wallets currently available. Click on the name will take you to the review, while click on the price will take you to the official store where you can buy the device safely. The wallets are listed in no particular order.
Please know that while we may use affiliate or partner links when available, this does not by any means affect our judgement. We only suggest the products and services we truly believe in and use ourselves, and we will always advocate for and promote use of the better product or service, no matter the affiliation or partnership.