Cardano (ADA) - Information, Price, News and More
Cardano (ADA)
Market Cap
Volume
Available Supply

$16.90 B

$981.51 M

33.82 B

ADA
Cardano current price is $0.500 with a marketcap of $16.90 B. Its price is 1.74% up in last 24 hours.
If you would like to buy Cardano, some of the suggested exchanges for trading Ethereum are: Binance (not for USA), KuCoin and Huobi Global among others.
Latest Ethereum News, Post and Articles:
What is Cardano (ADA)?
Cardano is a proof-of-stake blockchain platform founded in 2017 with a goal to allow "changemakers, innovators and visionaries" to bring about positive global change.
It's an open-source project that in their own words aims to restore trust in global systems by "redistributing power from unaccountable structures to the margins — to individuals" — helping to create a more secure, transparent, and sustainable foundation for individuals to transact and exchange, systems to govern, and enterprises to grow.
ADA token is designed in a way to ensure its owners can participate in the development and operation of the network. Because of this, those who hold the cryptocurrency have the right to vote on any proposed changes to the code, as well as propose their own.
Who Is the Founder of Cardano?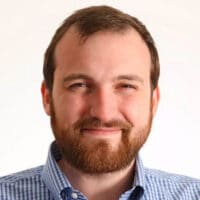 Cardano was founded by Charles Hoskinson, who happened to be of the co-founders of the Ethereum network. He is also the CEO of IOHK, the company that built Cardano's blockchain.
Hoskinson says he got involved in cryptocurrencies back in 2011 — when he dabbled in mining and trading. According to him, his first professional involvement in the industry came in 2013, when he created a course about Bitcoin that ended up being taken by over 80,000 students.
While being a technology entrepreneur is what he is most known for today, Hoskinson is also a mathematician.
What Makes Cardano Unique?
Cardano is as of 2021 the biggest blockchain by market cap (currently residing at 5th place) to successfully use a proof-of-stake (PoS) consensus mechanism, followed much further behind (43rd) by Algorand (ALGO). PoS is a much less energy intensive algorithm than the proof-of-work (PoW) algorithm relied upon by Bitcoin and many other cryptocurrencies today. While the much larger smart contract blockchain Ethereum is in the process of upgrading to PoS with ETH 2.0 as well, the transition will be gradual.
On-Chain Governance
Anyone in the Cardano community that has a vision on how to improve or extend Cardano can submit a proposal. The proposals can be regarding software updates, technical improvements or funding decisions and are called Cardano improvement proposals (CIPs) and Funding Proposals (FP's).
Any stakeholder in the community can participate in the treasury voting, and their voting power is proportional to their possessed stake. In the pre-voting stage, users can either be registered as voters, experts or participants in the election committee. In order to participate as a voter, a certain amount of coins need to be staked and the voter has the option of voting directly or delegating their vote to an expert. Experts have the same rights as a voter, however their vote weight increases as voters delegate to them.
The project has taken pride in ensuring that all of the technology developed goes through a process of peer-reviewed research, meaning that ideas can be presented as well as challenged by the community before they are validated. According to the Cardano team, this helps the blockchain to be durable and stable in the long run, and not dependent on its founding team — all while increasing the chance of discovering any potential problems in advance.
What Does ADA Do?
ADA can be used to pay for the processing power required to carry out transactions and eventually smart contracts. It can also be staked in exchange for rewards and voting rights.
Who Are the Natural Buyers of Cardano?
(other than those investing purely for speculative reasons and trading profit)
Cardano, much like much like Ethereum, shares a similar clientele.
Stakers: Token holders who want to participate in network validation and earn staking rewards, as well as the voting rights (governance)
Developers and users of various ADA based projects who need ADA tokens to pay for the transaction and contract execution fees
Cardano Supply and Circulation?
There is a maximum supply of 45 billion ADA, with a current circulating supply of about 32 billion (at the time of writing). The remaining currently unissued ADA is to be distributed as rewards along with the fees to the coin holders upholding the network via staking. Once the entire supply is distributed, the staking rewards will become fees only.
Five rounds of public sales of Cardano tokens were held between September 2015 and January 2017.
Approximately 2.5 billion ADA was allotted to IOHK once the network launched. Meanwhile, an additional 2.1 billion ADA was given to Emurgo, a global blockchain technology company that served as a founding entity of the Cardano protocol. Last but not least, 648 million ADA was given to the not-for-profit Cardano Foundation, which aims to promote the platform and increase levels of adoption.
Overall, about 16% of ADA's total supply went to the project's founders, with the remaining 84% being split among investors.
Future of Cardano
The team behind the layered blockchain say that there have already been some compelling use cases for its technology, which aims to allow decentralized apps and smart contracts to be developed with modularity. For example, Cardano is used by agricultural companies to track fresh produce from field to fork, while other products built on the platform allow educational credentials to be stored in a tamper-proof way, and retailers to clamp down on counterfeit goods.
In 2021 they've finally started rolling out the infrastructure to introduce the long awaited smart contracts to their blockchain platform, which shall eventually bring it nearer to the functionality of its main rival Ethereum (ETH).
Having that said, Cardano's own future will likely be directly linked to its rivals success as they do aim to cater to a similar crowd in the end. In terms of development, Ethereum has more of a hands-on approach by putting practice before theory. This is in stark contrast to Cardano where every component of its architecture is peer-reviewed and rigorously tested by academics prior to implementation, which gave Ethereum a first-mover advantage when it launched in the summer of 2015.
ETH is now the second-largest cryptocurrency and that's largely because of Ethereum blockchain hosting the largest ecosystem in the crypto space including thousands of altcoins, stable coins, dApps, NFTs, and more, while Cardano launched in the fall of 2017 and you'd be hard-pressed to list more than a couple of projects building on the Cardano blockchain at the moment.
This is no knock on Cardano though, as it's barely halfway through its roadmap, and has yet to enable the same smart contract functionality that has made Ethereum so successful. Despite lagging behind Ethereum, ADA has spent most of its lifetime among the top 10 cryptocurrencies by market cap and boasts one of the largest crypto communities out there.
As mentioned, ADA's final position in the crypto world will likely depend on the success of Ethereum (ETH 2.0), but there's no reason for the two blockchains not to co-exist peacefully, as long as they both deliver on their promises and manage to cater to their users in their own unique way.
Where Can You Buy Cardano (ADA)?
Being one of the top cryptocurrencies in the world in terms of market capitalization, you will be able to find ADA trading pairs on virtually every crypto exchange. Some of the main markets where ADA trading is available are:
Loading Data
Please wait, we are loading chart data
| Date | Price | Volume | MarketCap |
| --- | --- | --- | --- |
Loading facebook comment(s)